About Ghana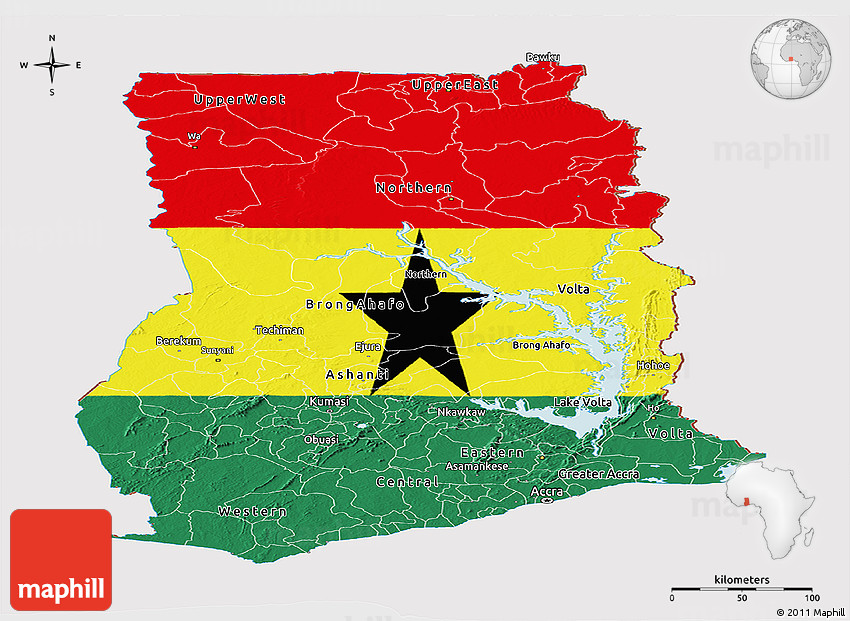 Photo source: http://www.maphill.com
Ghana, officially the republic of Ghana is a country on the West Coast of Africa and one of the most thriving democracies on the continent. It has often been referred to as an "island of peace". The current population of Ghana is 29.2 million spanning a land mass of 238, 827 km2. Ghana is bordered by the Ivory Coast in the West, Burkina Faso in the North, Togo in the East and the Gulf of Guinea and Atlantic Ocean in the South. The word Ghana means '' Warrior King '' in the Soninke language. A recent discovery of oil in the Gulf of Guinea could make Ghana an important oil producer and exporter in the next few years.
Accra is the capital and most populous city of Ghana, it is also the capital of Greater Accra Region and the Accra Metropolis District. Accra is in the anchor of a larger metropolitan area which is inhabited by about 4 million people and the thirteenth-largest metropolitan area in Africa.
Ghana has several tourists attractions such as the castles. Most of the major international airlines fly into and from the international airport in Accra. Domestic air travel is thriving and the country has a vibrant telecommunications sector, with six cellular phone operators and several internet service providers.
The country's economy is dominated by agriculture, which employs about 40 percent of the working population. Ghana is one of the leading exporters of cocoa in the world. It is also a significant exporter of commodities such as gold and lumber. Trade is important to Ghana's economy; the value of exports and imports taken together equal to 99% of Ghana's GDP. Ghana's economy expanded for the third, successive quarter in March 2017, to 6.6% up from 4.4% the previous year.
Ghana has been described as an important development partner of China on the African continent. Madam Sun Baohong, Chinese Ambassador to Ghana said last year, trade between Ghana and China amounted $5.976 billion, making Ghana the seventh largest trading partner of China in Africa. China's imports from Ghana for the same year, was $1.305 billion, and export to Ghana, $4.671 billion, the Chinese ambassador said, adding that China's non-financial direct investment inflows into Ghana, also hit $2.511 billion.
References:
http://www.worldbank.org/en/country/ghana/overview
https://www.ghanaweb.com/GhanaHomePage/country_information/