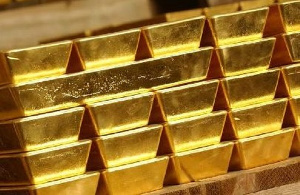 Ghana's domestic gold purchase programme has increased the country's bullion reserves from eight to 14 tonnes, President Nana Akufo-Addo has said. Speaking at the official opening of the Graphic Natural Resources Stakeholders Dialogue in Accra on Thursday, 11 May 2023, the president said:

"For well over the century that we have been mining gold, our gold reserves between the 1980s and June 2021, were just eight tonnes."
"Under the domestic gold purchase programme, our gold reserves have increased from eight to 14 tonnes as of the end of 2022. That is just under 18 months of the implementation of this programme," the president noted. The president also hinted at banning the exportation of certain natural minerals in their raw state.
"We cannot forget lithium and the other green minerals which have been described as the minerals of the future due to the importance of the green energy transition," he remarked. "Fortunately," he noted, "we have discovered lithium in commercial quantities, in occurrence with cobalt, nickel, copper, lead, and zinc in the country." "We should not do with these minerals what we have done with our gold resources over the years," he cautioned.
Mr Akufo-Addo announced: "The ministry of lands and natural resources, under the leadership of Abu Jinapor, is finalising a policy document for the exploitation and utilisation and management of these crucial minerals for the consideration of cabinet in the next few years." The president added: "By section 28 of GIDEC law, in section 30 of the GIFTECH law, the minister of lands and natural resources is empowered to make regulations to ensure that no bauxite or iron ore, in their raw state, is exported out of the country after five years of coming into force of these laws."