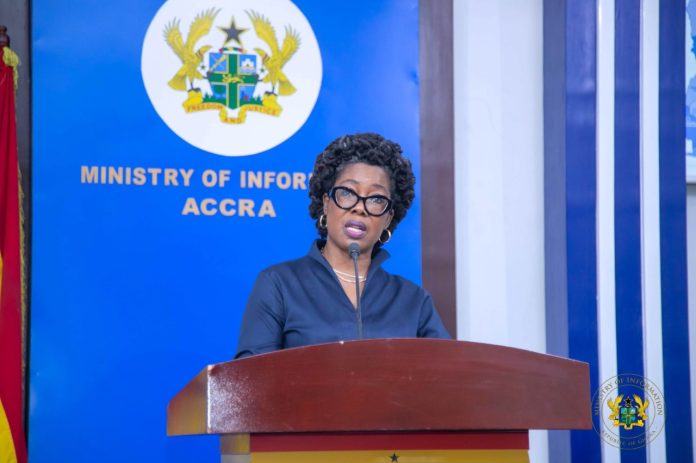 The Ghana Export Promotion Authority (GEPA) says Ghana recorded eight billion dollars for trade in services export in 2022.

Some of the services exported include medical doctors, nurses, teachers, insurance, information technology solution, information services, computer services, telecommunications, and audio visual and related services, as well as research and development services.
Dr Afua Asabea Asare, the Chief Executive Officer of the GEPA, who announced this at a media briefing in Accra, said the Bank of Ghana (BoG) collated export data on trade in services through inflows to financial institutions over a period.
The total export of services from Ghana in 2022 amounted to US$8.247, compared to $9.174 billion in 2021, Dr Asare said.
It is imperative to note that the modes of delivery and capturing of service export data are different from the way and manner merchandised exports are delivered to destination markets, Dr Asare stated.
Asked whether it makes logic for government to access US$3 billion from the International Monetary Fund when the nation received more than that amount, last year, Dr Asare said, the Government needed more money to fund more physical infrastructure projects.
On revenue GEPA received from Non-Traditional Export in 2022, Dr Asare said, it recorded a six percent increase in the country's Non-Traditional Export (NTE) earnings in 2022.
It raked in $3.5 billion from NTE earnings in 2022, compared to $3.33 billion recorded in 2021.
She attributed the growth to a combination of structural changes within Ghana's Non-Traditional Export ecosystem and the effective implementation of the National Export Development Strategy (NEDS).
The NTEs increased by six percent or US$3,531,048,234 over the previous year and accounted for over 20.22 percent of total export earnings over the same period, she said.
"It is no doubt that the implementation of the National Export Development Strategy by GEPA and other relevant stakeholders contributed to this positive growth, and if we maintain our resilience and hard work, accomplishing the Strategy's aim in the next 10 years will be a walk in a park," she said.
She said the NTEs encompassed a wide range of diversified products, with recorded earnings amounting to US$3,531,048,234 in 2022, compared to US$3,330,317,588 in 2021.
"We are delighted to report a 6% increase in Ghana's Non-Traditional Export earnings for 2022. This positive trend can be attributed to the successful implementation of the National Export Development Strategy.
That, she said, the strategic changes made within our NTE ecosystem," she added.
"The strategy focused on enhancing market access, improving product quality and standards, promoting value addition, and exploring emerging markets," she stated.
These initiatives, she said, led to an overall strengthening of Ghana's NTE sector and a diversification of its export offerings
Highlighting the top 10 NTE products for 2022, Dr. Asare mentioned cocoa paste, cashew nuts, cocoa butter, iron and steel sheets, articles of plastics, aluminium plates, sheets and coils, canned tuna, natural rubber sheets, cocoa powder, and shea oil.
She said cocoa paste emerged as the highest earner, contributing US$520.3 million, followed by cashew nuts with US$294.2 million.
Shea oil ranked as the lowest earner with US$92.6 million.
The cumulative value of the top 10 products accounted for US$2,150,085,426, representing 60.9% of the total NTE earnings in 2022.
The average earning of the top 10 earners was recorded at US$215.0 million.
Dr. Asare further outlined the market destinations for Ghana's NTEs and mentioned the five destination groups including the ECOWAS Sub-region, the European Union (EU) and the United Kingdom, as well as other developed countries and emerging countries.
The CEO of GEPA explained that the ECOWAS market remained the leading destination, accounting for 34.59% of the total market, followed closely by the EU & UK markets, contributing 31.90%.
Burkina Faso emerged as the leading market destination for Ghana's NTEs, with a consumption value of US$425.01 million, representing a 16% increase from the previous year.
Togo followed with a significant 21% increase, consuming US$198.05 million in 2022 compared to US$156.88 million in 2021.
She expressed the hope that Ghana's future NTE sector looked bright, and cited the continuous efforts to diversify products, explore new markets, and enhance competitiveness.